My fellow blogger readers: I have some breaking news to report to you, this evening.  During the early morning of May 24th, 2008, Dodgers general manager Ned Colletti was kidnapped.  While Colletti was at work in the early morning combing his toupee, three suspects walked into his offices at Dodger Stadium and kidnapped him.  Two of the three suspects put Colletti in the trunk of their car and took him back near the San Francisco area, while the other one is reported to be currently taking over duties inside Colletti's office.
The suspect remains at large and the following has happened under his reign today:
- Designated Esteban Loaiza for assignment
- Called up pitching phenom Clayton Kershaw
- Andruw Jones to get scoped and miss the next 4-6 weeks
- Placed Nomar Garciaparra on the 60 DL and called up Terry Tiffee
Authorities and washed up old veterans are trying to find the suspect, however, the best that they can find is this photo: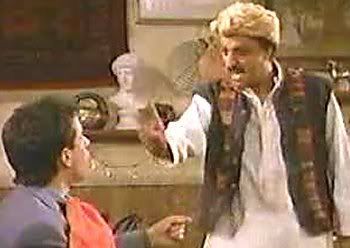 Authorities have identified him as Babu, previously on the old 1990′s sitcom: "Seinfeld."  Babu has previously kidnapped Colletti and taken over his job more than once, such as in late 2005, when acquiring Andre Ethier and signing Rafael Furcal, and during the trade deadline in 2006 when trading for Greg Maddux and other moves that have been beneficial to the Dodgers.
If you see him, please call 1-800-866-DODGERS and give him a fucking raise.
- Vin