As I was perusing through the MLB headlines this afternoon, trying to find any baseball news during this All-Star break, I came across this one near the bottom: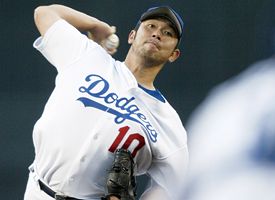 Hideo Nomo, who pitched a pair of no-hitters and led a rush of Japanese players to the major leagues, is finished.

Nomo announced his retirement Thursday, agent Don Nomura said. Once known for a deceptive delivery and a devastating forkball, the 39-year-old Nomo was released by the Kansas City Royals in late April.
I was going to spend the evening writing an article reflecting on Nomo's career and then I remembered: I already did it!  So, instead of rehashing, I'll just re-link to the article and hopefully it brings you back some of the great memories The Tornado provided. Even though his retirement came 4 years too late, he was really something special to watch in his heyday.
So long, Hideo.
- Vin